Eric rode in the Livestrong bike ride today in honor of my mom, a breast cancer survivor, and in memory of his brother, Mark, and our son, Joe. It was a VERY rainy day so he was one wet rider after 40 miles. I am so proud of him!
Last night we went to the Livestrong dinner. I thought it would be the normal "thank you" dinner but it was AWESOME! It was very quaint, had GREAT food and amazing speakers including various cancer survivors, marathon legend Alberto Salazar and of course, Lance Armstrong.
Lance is a different Lance than the one portrayed in his book. He is very funny in a dry, witty way. Charming. I like him whereas after reading his book I respected him and was inspired by his fight with cancer, but his personality seemed rough (okay, yes, he seemed like an ass). It made me remember that learning about a person through the written word is often different than meeting them in person. I have a new respect for the guy.
Next year, our ENTIRE family is going to participate in the Livestrong bike ride. It will be QUITE the event!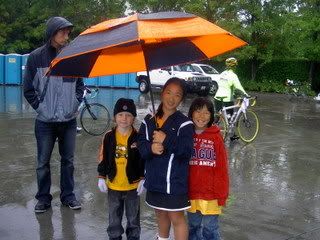 Some of the kids waiting for Daddy to cross the finish line.
Here he comes!
Five wet kids and one very wet dad.
The outfit we purchased for Vu--to remember his big brother and to wear in the Livestrong next year.