Only those who avoid love can avoid grief. The point is to learn from grief and remain vulnerable to love.
--John Brantner
I was born in the year of the tiger. I've decided to change it by hopping forward into the year of the rabbit. Surely, Jan 1st would be a fun birthday, just as the clock strikes the new year, drowning in friends and noise and alcoholic drinks.
I never really felt like a tiger anyway. I don't like to eat meat. I'm peaceful and run like a rabbit from trouble.
Today's my real birthday. It used to be a most amazing day, fun in every way. I'd wake up in the morning and we would get right into my celebration, going out to breakfast, opening presents, maybe hitting a matinee. We compressed everything into the early hours because the afternoon would be filled with a whole lot more fun.
In the afternoon, we celebrated someone else's birthday. Someone more precious than words, born on my 23rd birthday, eight pounds of pure joy; I am certain he began smiling that very first day.
We would spend the rest of the day celebrating Joe with presents and BBQ ribs and rootbeer floats and a slumber party. (And there were some wild ones--on more than one occasion we promised it was the last!)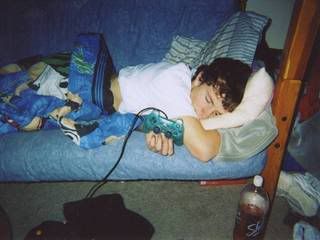 I miss my son every moment of every day but on my birthday, on
our
birthday, his absence claws at me even more, trapping me in a cage of grief. I want to run away as fast as jackrabbit feet can carry me and I most certainly do not want to celebrate my own birthday. It's just too sad.
True to being born in the year of the ox, Joe was both easy-going yet stubborn. When I found out he had cancer I remember thinking if there was a kid who could beat it, he could. And he was expected to.
Hodgkin's Lymphoma is considered a "good" cancer, one "highly curable"--and it seemed to be cured. But when it returned a few months later, it returned with a vengeance and even though he fought like a tiger, he lost. We lost.
I know he's in a better place. I know that as much as I know anything. But my brain doesn't communicate it to my heart and I wish he was still here with me, our birthday cakes side by side; lemon for me, rainbow chip for him.
But with each passing year I learn something and a new thought occurred to me today.
My longing for him, in many ways, parallels that of my childrens' birth mothers.
Like me, they know their child is in a better place. Like me, they know their child is living a life they could never give.
Like me, they still grieve.
We share a bond held only by a handful and when we meet someday, and I hope we do, I will understand their grief endured. I will understand walking down the street, being startled by a child who looks like my son. I will understand the "what-ifs" and the "if-only's". I will understand the longing that seeps into the night; dreams of our lost one running back into open arms for a brief interlude of pure joy--then waking to reality. I will understand having a birthday come, and pass, without a smiling child to blow out the candles.
I will understand. And I will pull my child's birthmother into my arms and hug her and hold her and our silent tears will cross all language barriers.
I will understand.
And she will know.
Where there is love there is pain
Spanish Proverb
'Tis better to have loved and lost than never to have loved at all.
Alfred Lord Tennyson