My Mom's birthday always falls near Easter and as a gift to herself, she takes the family out for Easter Brunch. I'm not sure how that works since it is HER birthday but with my parents, when it comes to trying to pay in a restaurant, we may as well give up before we walk in the door.
Easter Brunch is one of our favorite traditions. Here's some pics: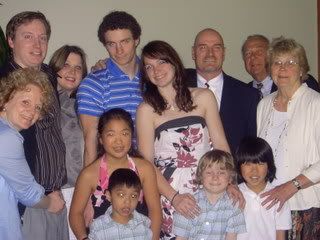 The little kids always enjoy spending time with James and his girlfriend. While we waited for seating they enjoyed each other: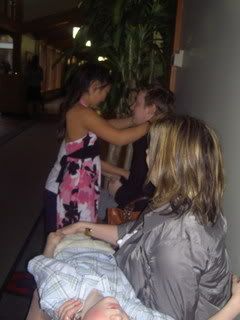 The older kids are great entertainers:
Vu was delighted with all the MEAT! Sausage, bacon, crab, salmon and shrimp! My carnivore!
A no-no in the manners department but a cute pic:
James showing the kids pictures of his new kitty: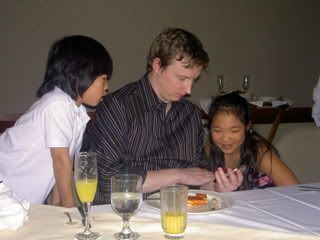 Paul got chocolate all down the front of him. He said, "Hey Mom! Did you bring your 'Tide To Go' pen?" Uhhh . . . think it's going to need more than that!