He is risen! A day most meaningful to us, especially now.
As we were sitting in church today Patrick whispered in my ear, "Mom, can people die in Heaven?" I answered, "No, you are alive FOREVER in Heaven."
He looked at me in amazement and said, "SWEEEEET!"
We spent the weekend with my parents. How would you like to wake up to this everyday?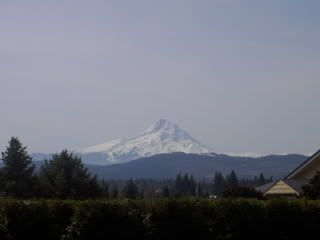 On our way Kim pipes up from the backseat, "Uh, Mom? Did you pack me a bag?"
My reply, "Uh, no. . . Did you?"
That's one way to get a new Easter dress! LOL! Actually, we had the dress and made due with everything else--thank heaven's for washing machines! Makes me realize I overpack on all trips.
Time to dye Easter eggs:
Kim's proud of her artistic ability:
Already the pro--Vu points something out to Patrick:
The final result: