I wonder what she wished for?
The party theme was Princess. Lizzy made the cake.
The Beast full of party goers. Lizzy isn't allowed to have a boyfriend until she's 16 but when she brought this guy home, well . . . Let's see. He's an excellent student, very polite, athletic, and even passed the Older Brother Test. And hey, with that kind of good looks? He got the thumbs up from me! Eric's still pretending his little girl isn't interested in boys so won't allow them to become official boyfriend/girlfriend.
The famous birthday game asking questions to see how well they know the birthday child. They knew the answer to the question: "What was Lizzy's favorite article of clothing when she was young?" Answer: Dresses! She wore one EVERY SINGLE DAY OF KINDERGARTEN!
The next question tho: "What was Lizzy's least favorite article of clothing when she was young?" Answer: Underwear! When she was three and four I learned to keep extra pairs in the van. I cannot tell you how many times we got out in public with her in a dress and I would realize she had no underwear on! She was embarrassed by that question. Guess it wasn't such a winner idea with her boyfriend, I mean, friend who is a boy, there.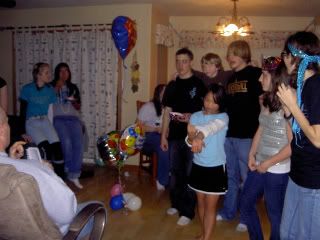 Sweet Sixteen next year! Wow!