We are now CFK party of 13 since Texas and her family, my mom, dad and aunt all headed home today. I was sad to see part of the troops head out:-( Our kids are still here--the older kids fly home tomorrow: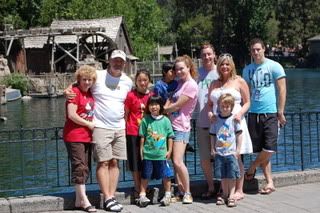 We spent the morning on the Jungle Cruise--
Our own jungle troops:
Isn't this the cutest couple ever? James with his Style Girl.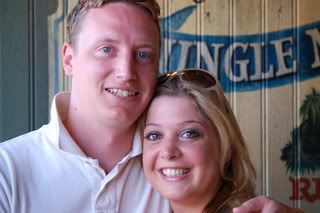 And at Toon Town:
After splitting into fast/slow ride groups we were on opposite sides of the park when I got a frantic call from Eric. Patrick was having a full blown asthma attack and I had his inhaler. It is only by the grace of God that I had decided to bring it to the park as Patrick has never had an attack in the middle of the day without warning. Eric put Patrick on his shoulders and ran. I did the same.
For the record, I would like everyone in the world to know I DID NOT RUN LIKE A MOTHER. I ran like a Jamaican sprinter. Lizzy says I always run like a mother, whatever that is, and today, I did not. I ran like a mother running to save her son!
After a few scary minutes we got Albuterol into Patrick then took him to the first aid station. WOW! If I had known it would be like a full fledged doctor's office I would have just had Eric go there. They can even do full breathing treatments, had four full time staff, oxygen monitors, the whole bit. More like an urgent care than a first aid station. I was VERY impressed.
Patrick was okay but it put a big damper on his day and he never really recovered. He didn't even want to go on any rides the rest of the day, poor guy.
Patrick before his asthma episode: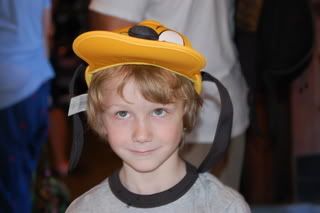 Patrick after his asthma episode getting some love from Will:
By late afternoon everyone was tired of the heat and crowds. Here's the family:
Guess what the kids wanted to do? Yes, more swimming!
After dinner, we decided to have some big kid fun. Lizzy stayed at the motel and watched the little kids while the big kids, mom and dad had some fun.
Is that Dash with Mr. and Mrs. Incredible?
We also had some very wet fun! Oh, how I wish we had some pictures!
We were on Splash Mountain and James asked the Disney employee the secret to getting wet. The employee said he could call in for us to get really wet then proceeded to get on the phone. We thought he was kidding. He was not. It was like having a tidal wave come over us. Even our underwear were wet!!!
I really wanted to watch the light show but the big kids wanted to go on more rides and I figured I could always watch a show but I can't always be with my big kids so we went on lots and lots of rides and didn't leave the park until 1 AM!
Great times, great fun! We won't wait seven years again to come back!