The day started out amazing. The children all woke up excited for the drive home and happily helped load the car and buckle into their carseats. The air was filled with excitement for more adventure and when Eric said it would be a twelve hour drive they all yelled, "Hurrah!"
The kids all played wonderfully together, sharing everything and helping one another with car games. Lunch time came and when Eric asked, for the 16th day in a row, who wanted a sandwich, all the children shouted, "Yum, yum! Another delicious sandwich!!!"
NOT!
Let me start over.
The day started out with dread. The kids wouldn't get out of bed and were cranky when they did. When Eric said it would be at least a ten hour drive they all said, "Ugh!"
The kids did play very well in the car, thanks to buying $50 in new toys/activities—best money I've ever spent. The lace-up cards were a big hit as was the magnetic design toy. Also, D2 gave us several new craft items and fun gadgets. D2 is the most amazing craft lady ever—she inspires me to get my kids into more handicrafts.
It's lunch time now and we stopped to make sandwiches but the kids have threatened mutiny so I think this will be the last sandwich of the entire summer. Eric did get brave enough to dig to the bottom of the snack bin. It was like a treasure hunt. "Eureka ! A chocolate pudding! Two! Going once, going twice, SOLD to the loudest bidder! And even a spoon—Paul and Kim, share the spoon. Stale crackers anyone? How about a pack of fruit snacks melted into molten sugar???"
So far so good, more updates later . . . .
Update:
Home sweet home! The remainder of our trip went well and now I feel like Dorothy in
The Wizard Of Oz
saying, "There's no place like home, there's no place like home!"
There truly is no place like home!
A few more pics of the trip:
Vu loved meeting all the characters including Cinderella. Check out Lizzy holding Etame in the Ergo.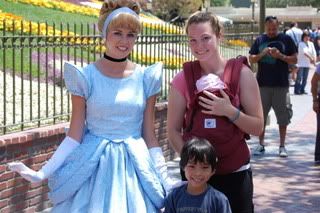 Patrick had some moves in boxing at ESPN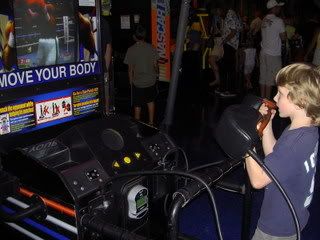 More proof I will have some wild and crazy drivers in the future: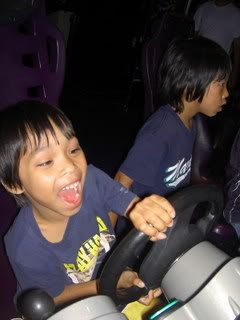 It's amazing any of our children learn to walk: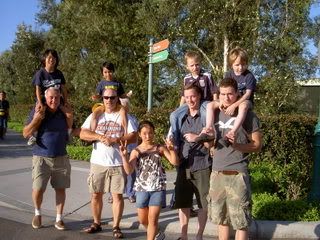 My mom and dad:
My mom and aunt--her first time at Disney!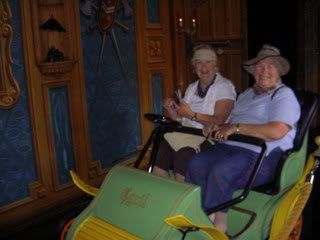 Paul was determined to use his own money to play this game and of course he won so now he will want to play again at some other money-sucking game place. Ugh!
More memories: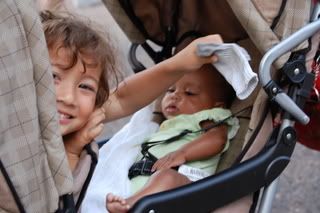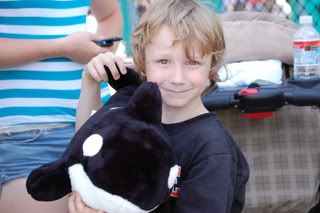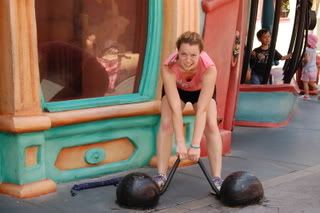 Catching some fish:
James and Will holding Patrick's hands at the end of a great day.
Which brings me to the end of a great trip.
THE END