When we woke up this morning Vu looked over at me and asked if we were going to Disneyland again. I very gently explained in a lengthy sentence that we would not be able to go back for a long time.
"Good!" he said!
I think the boy is Disney'd out!
After taking the three older kids to the airport (lucky them, they get to fly home as they couldn't miss more work) we leisurely drove to San Diego. Nicole is still with us, crazy person that she is--guess it runs in the family! We love having her company and being with her kids.
As we drove past Legoland I was tempted to stop but I was taking the advice of Dr. Will (our family version of Dr. Phil). The kid is a wealth of advice and knowledge on everything from decorating to marriage--this can be good and bad.
Dr. Will said we need to make sure we actually put some vacation into the word and have some down time so we didn't even go to the beach. Dr. Will had good advice, it was nice to relax and even do a little laundry.
That isn't to say it wasn't an exciting day!
We were in the pool--yes again! I tell you, next summer I am just going to stay home and take my kids to the pool everyday. Anyhoo, we were in the pool and the excitement was almost more than my kids could believe!
Little James threw up in the pool!!!
Let me tell you, if you are ever in an over-crowded pool and you need some space, get your kid close to the jacuzzi jets and whiff up some chlorine and they will start coughing and heaving and then just have your child lose their lunch. Amazing results. Cleared out the entire pool in NO TIME FLAT!
Problem was, all my kids wanted out too.
I tried to coax them back in but to no avail. What's a little (lot) of barf? That's what filters are for, right?
Tomorrow--Sea World!
Swimming--Vu's highlight
We must have hit the blue light special on blue and green goggles: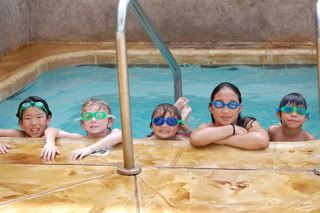 Nicole with Mr. Personality--aka Little James--aka The Pool Clearer