I really, truly, want to say "Thank you!" to everyone who sent sympathetic and encouraging words. I felt your love and passed it on to Levi's family. It makes me want to meet each of you in person even more.
So, why not?
Anyone live in Texas? Portland? St. Louis? Baltimore? Spokane? Seattle? Boise???
I'm planning to visit all those places in the next several months.
Why? How? When? Who, what, where???
Let me back up a bit . . .
First day of school pictures:
Kim and Paul--Paul was actually more excited than he looks. He has an AWESOME teacher who has survived four of our older kids.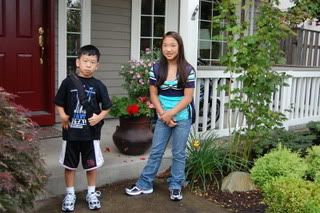 Here's me off to high school. Oh, wait a minute, no, it's not me, it's Lizzy but she is wearing the exact same outfit I wore in high school. At least, those boots look just like mine did . . .
Will's getting ready for college.
Those are not girlfriends! You pervs! They are related--cousin . . . sister . . . cousin's friend (considered related!).
He is selling his car so he can make a more economic choice of cars--one that gets more than 10 MPG.
Anyone want to buy a gas hog but really cool Nova?
For Sale. FUN to drive! Accessories not included.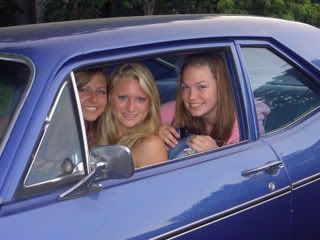 Do I have everyone covered for first day of school?
Left out a couple?
That's because three days before school started I decided to go off the deep-end and . . .
HOMESCHOOL Patrick and Vu!
Yup! Count me as a crazy!
Why?
This was also taken the first day and no, it is not posed. If it were I would have pulled Patrick's shirt down over his undies. At least he has undies on which is more than I can say for Vu who has reverted to his VNese freedoms: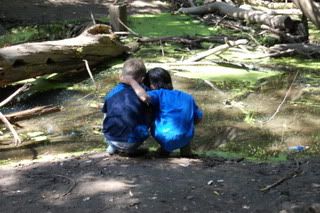 What does this mean? I also have freedom as in--I can travel freely. Well, as free as one can be with two 6yo boys!
On the top of our travel agenda is to visit some of Vu's friends from his orphanage who now have families in the U.S.! Anyone want to meet up? Anyone have a guest room? Of course, I have to "know" you, as in know you for real OR from the internet. (Wow! That sounds SO wrong! I really hope my social worker is not reading this!)
We have some upcoming happy times!
Thanks again for helping us through some very, VERY unhappy ones.