Preparing for some Halloween fun--a cowgirl and a belly dancer:
Vu's excited for his first Halloween!
Vu is a Star Wars pilot, Paul is a ninja and Patrick is a soccer player!
First, we went to visit James at his work. My James is a smart boy. He is dressed up as a hunter. Wanna know why he is so smart? He was heading out for hunting later in the evening. Un-huh, smart costume, huh?
Everyone minus Kim who was with friends but plus a neighbor kid but minus Will (working) but plus James' girlfriend. That pretty much sums up how most of our family pictures are--pluses and minuses.
Ready to hit the neighborhood for some candy:
First stop, our super fantastic neighbor K who always has a special goodie bag for our kids--this was Vu's first trick-or-treat experience: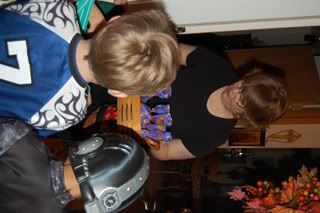 Two hours later--mission accomplished:
The king was in his counting house, counting out his money. I mean, candy . . .
Sorting the loot--with a look of dreamy chocolate drunkeness:
Eating, and eating, and EATING! For some reason, he now has a stomachache.
The funny comment of the night. I had little containers of playdough to hand out to the Trick-or-Treaters coming to my door. (For the record, I also had candy for bigger kids.) I always like the idea of giving something other than candy like pencils or bubbles but my kids say it's SO lame! Anyhoo, I thought I was being creative with the playdough and Lizzy looked at it, picked one up, sighed and said, "Really mom? Playdough? Next year you're probably going to hand out broccoli!!!"
Don't tempt me girl! Don't tempt me!