Yesterday was an exciting day! We went to the court house and filed Vu's final adoption papers. His name will also legally be changed. We will keep his Vietnamese name for his middle name and also give him a second one, keeping in tradition with all six of our boys. And of course, he will be named after a famous baseball player--Cal Ripken Jr.--the official choice of his late brother Joe (named after Joe DiMaggio) and approved by our own Ty Cobb, Ted Williams, Alex Rodriguez and Lou Gehrig.
I should be labeled worst procrastinator of the year but I just wasn't ready to dive into all the paperwork after that hideous dossier (we were so spoiled with our Korean adoptions which do not require a dossier)!
Always out to save some cash we did the paperwork ourselves--just before going to the courthouse I made sure everything was in order:
Two cute boys at the courthouse. They were VERY impressed when I pointed out the jail cells!
To celebrate we went out for lunch at our favorite VNese restaurant: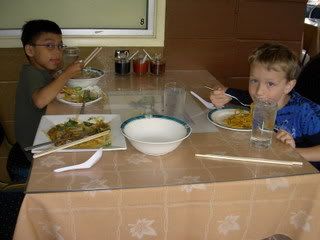 Vu ate and ate and ATE! Pho (VNese beef noodle soup) is his favorite. Patrick loves the VNese chow mein.