365 days. Can it be?
Today is Vu's "Gotcha Day"--the day he legally and physically became our son--though he was born into our hearts the day we first saw his picture on the waiting child listing, April 6, 2007, Good Friday.
We don't really celebrate Gotcha Day in our family, though we always let our child know it's a special day. In many ways, it's a bittersweet day--one that is happy for me but sad for those my child had to leave behind. In Kim's and Paul's case, they had foster families who loved them so much. In Vu's case, he left the nannies at the orphanage, many of whom had cared for him since he was first admitted, weighing only four pounds. I know they wanted him to have a family because they loved him so much, but it was heartbreaking for them.
I guess I just feel reminiscent on this day. It seems like so long ago and yet just yesterday. That whirlwind day that was in slow motion and yet I can hardly remember any details. Now that I think about it, his birth was like all the others--a foggy whirlwind!
I remember we got to the orphanage and it was very quiet. We had a mix up with the cab and we were a few hours late. We were brought into the office and sat down in a very serious discussion with the staff. I was certain they were going to tell us we would have to come back another day and my heart was pounding with trepidation but they simply were very apologetic about the mix up and wanted to get some paperwork out of the way.
Then, I heard a little boy crying in the next room and I was sure it was Vu. I asked, but the director smiled and said that no, it was not Vu. She said Vu was very excited and had been going around the orphanage that morning telling everyone, "Goodbye! My family is coming and I am going to America!" We continued to sign paperwork and I looked up to a quiet little boy on the other side of the room--I hadn't even heard him come in. He smiled shyly--oh that beautiful little smile! And of course, at that point, my eyes brimmed and spilled with tears. It seemed impossible that after waiting so long, he was finally there, right in front of us. He came into our arms so easily and happily it was almost like a dream.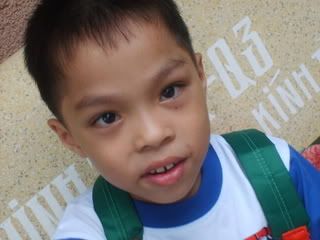 Adopting Vu was one of the easiest/hardest things I have ever done. It was easy to love him, that's for sure! He made that very easy and he still does! And I think I read so much about all the possibilities of "things that might go wrong" that when we only experienced some of those, it still seemed easy!
But it was also hard. Sometimes, I think I didn't realize just how hard it was when I was in the thick of it. I do remember feeling like I had to be on high alert for the first few months. There were so many aspects I hadn't anticipated. He didn't know the stove was hot, the street was dangerous, that he couldn't just walk out the front door to explore whenever he wanted. In many ways, he was like a 2yo.
I hadn't anticipated how curious he would be about everything. He wanted to look inside every single game in the toy room, every single storage box up high--and he would try to climb up onto things to discover.
I hadn't realized how hard separation would be--he wanted ALL the family to be together ALL the time. When the older kids had to go to school he would cry like they would never return even tho we had VNese friends explain they would always return. When I would drop Kim off at piano he would do the same or if one of the kids wanted to spend the night at a friends--same reaction. It took a long, long time for him to overcome this. Come to think of it, he STILL likes it best when we are all together. But then, so do I :-)
There were many things he just didn't know because he had never experienced them, things I never even thought about like, he had a hard time holding onto things in the car. It never occurred to me before but kids actually LEARN how to hold onto things while moving. We had many dropped toys, Happy Meals, drinks etc. He has just recently really learned to hold on which is a good thing considering the amount of time we spend in the car!
But the hardest thing was the raging fits he would throw. They weren't long or often but when he got going, it was just downright scary! He would go off into his own little world and be unknowing and unseeing and try to kick and bite and spit and I wondered if he would always throw fits like that!
The answer is, no. There were times I wondered if I should start to handle them with discipline but deep in my heart I knew it was just all the anger, frustation, sorrow and grief coming out. I would tell him over and over that I loved him and he would always be my son and I knew he was sad. I would hold him and rock him and tell him over and over, in Vietnamese, that it was going to be okay.
And it was.
Those fits became non-existent and he began to understand that siblings returned from school and daddy returned from work. We eventually went through every closet and drawer to show him the contents and his curiosity was fulfilled. He learned to speak English faster than I could have ever imagined and most importantly, he began to understand that he was really here forever.
Through it all, his energy, love and joyful spirit has added a dimension to our family that we didn't fully realize was missing. His amazing spirit of joy has conquered all, this brave little boy who trusted us on that day, one year ago; he trusted us enough to say goodbye to everyone and everything he had ever known and loved. He has blossomed. So have we. He loves having a family and we love him more than words can say.
If I had to use one word to describe Vu it would be--JOYFUL!
This is the smile we get to see everyday! We are so blessed!
Happy Gotcha Day Vu!