We had a very relaxing and wonderful holiday spent with family, friends, books and movies. I even got some sewing in and made a baby quilt for one of my best friends who just had a baby. She and I are the same age so she makes me feel very young!
On Thanksgiving the women do the cooking:
The men worked hard too (notice the three little boys in the background watching Bakugan on Grandma's computer):
James and Glamour Girl joined us: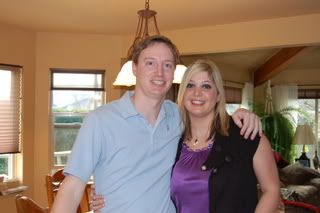 My Mom sets a beautiful table--she is the original Martha Stewart. Unfortunately, she did not pass that gene on to me.
Dad carves the turkey while James learns the talent:
First a prayer then time to eat: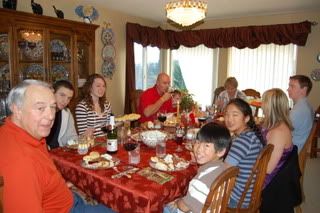 After we eat it's time to play lots of games including Patrick's new favorite--Battleship:
Back at home, time to end the day with an all-out wrestling match/pillow fight:
We always scope out the ads for early morning Black Friday shopping. We got a late start and didn't get up until 6:30 but Santa did get several hours of shopping in :-)