I went to get my hair cut yesterday and told my hairdresser to schedule me in six weeks--just before Christmas. I am almost certain she ENJOYED informing me that in six weeks it would be January 8th.
HOW CAN CHRISTMAS BE COMING SO SOON! Is this some kind of TRICK!!!
I am so unprepared, unorganized and unready for Christmas. And I don't want to hear from any of you about how you already have all your shopping done and can now just sit around baking cookies and making handmade dryer-lint ornaments. No, no! Maybe someday--right now I just want to sidle up to Mr. Grinch!
I actually love Christmas, it just seems to have come so quick!
I am hearing some Santa requests however so perhaps it will help put me in the mood and inspire me to do some shopping.
Paul wants Rock Band. Here he is with his own, self-made practice set, how cute it this? He has Tinkertoys for his cymbal and drum sticks, a tambourine from when I was a kid, the top of a plastic box for his drum and some bongo drums added in.
Maybe we shouldn't buy him anything and just let him keep being creative?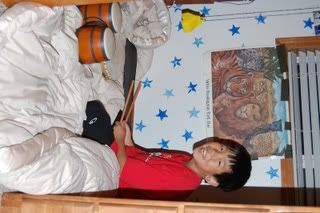 For now, I'm going to enjoy Thanksgiving and then go into full panic mode.
Until then, let's hope waking up to sweet little munchins will keep me smiling and filled with peace: