Eric visiting his fellow troops a few weeks after he retired: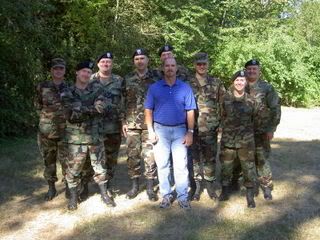 To my husband who served 22 years, to both my dad's and several BIL's, to my many nephews who have served (two in Iraq right now), to our many great friends who served and continue to serve and to you Stacey . . .
THANK YOU!
We are the land of the free because of the brave.
In your honor I have a special guest on my blog today--
Toby Keith
singing "
American Hero
."
(viewer discretion advised for young children)
(To Mom and others who are smart enough to spend as little time as possible on computers--click on the underlined words 'Toby Keith' to see the video :-)