It takes a lot for me to think a toy is worth the money. I have spent too much money on too many things that end up too soon in the Goodwill box--or simply sit on the shelf forever because there is NO WAY I am going to part with something I paid
that
kind of money for even if my kids
don't
play with it!
When shopping now, I ask myself these questions:
1.) How many hours of enjoyment will it bring?
2.) What is the cost per hour?
3.) Will my child still be playing with this next year?
4.) Does the toy have more than one use?
5.) How much space will it take up?
6.) Does it offer added health or educational benefits?
5.) Is this a toy I will save for my grandkids? (That question is not one most people will ask but when you have 8 kids and the oldest is 25 it's something to think about.)
Here are some classic toys that make this Santa's List:
Wooden blocks, Duplos, basic Legos (the Lego brand is superior to the Mega-blocks)
Pattern blocks--here is Paul's creation: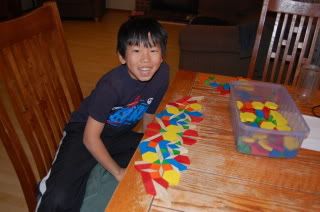 Tinkertoys--Christmas 2005 and still played with frequently: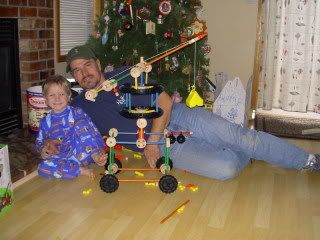 Matchbox cars (can you believe they are still only a buck?)
Metal Tonka Trucks--esp. the dump truck
Play kitchen with accessories (fill in with real kitchen access.)
Doll house--Fisher-Price makes a great one.
Basic Dolls/Barbie dolls that don't need batteries(Our girls especially loved Chou-Chou brand baby dolls and American Girl Dolls which are expensive but worth it--they will be saved for the grandkids)
Brio-type train set (we have a much cheaper brand that has been great!)
Classic board games--Life, Monopoly, Sorry, Clue and various versions of each like Dog-opoly.
My fav. matching game is "I Never Forget a Face" by eeBoo featuring children from all over the world.
Balls/sports balls/Koosh balls/texture balls/Nerf footballs
Basic art supplies--especially paint sets, finger paint, watercolor pencils, good quality colored pencils,sketching pencils and pads, construction paper, glitter glue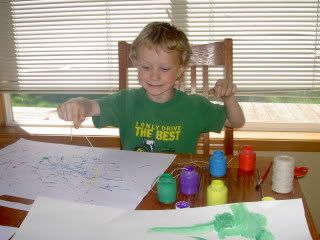 Dress-up clothes including treasures from Goodwill like old prom dresses
A tea set--I still have mine from when I was a little girl and each of our kids have one including the little boys who have versions from Asia.
Books, books and more books! Every Christmas and birthday our kids get a special (usually hardback) book.
Playdough--can also be made homemade which is even nicer--add a real wooden rolling pin, cookie cutters and the Playdough Fun Factory
A bike, basic scooter (like Razor brand) or Big Wheel: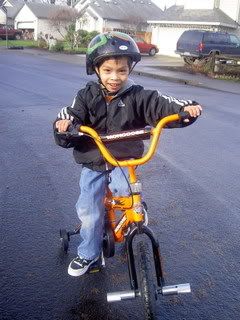 The Cozy Coupe Car by Little Tykes (for toddlers/preschoolers) The door makes it!
A cash register
Puzzles and floor puzzles--good quality--I especially love "Melissa and Doug" brand
Play phone/cell phone
For babies: play keys with built-in sounds, wind-up music box, hammer pound toy, fisher-price snap-beads, nesting boxes or cups, simple bath toys/boats, soft cloth books.
Musical instruments--good quality but for play--such as tambourine, bongo drum, electronic keyboard. Bypass the cymbals!
Sandbox
Swingset/wooden playset
Play tent or real two-man tent
Up tomorrow--when you're looking for more WOW--toys with PIZAZZ!