I love traditions--more of our favs:
Advent wreath and candles--each candle has a meaning. I would love to say we spend time reading the Bible and singing after lighting the candles, but we don't. I know, takes me down a notch on the Mother of the Year award.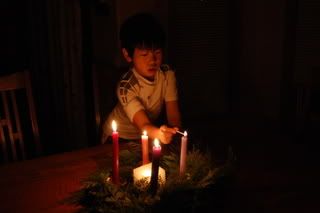 In German tradition, St. Nicholas comes on Dec 5 and fills the kids' shoes with goodies--or sticks should they be needed. Actually, only one child has ever received sticks and that was Joe, in high school, because he had just received detention (though in the night I felt guilty, crept down the stairs and put in some candy too:-)
The youngest child puts the star on the tree. Vu isn't technically the youngest but he should be (he was a tiny preemie)--so we let the two youngest trade off.
Decorating sugar cookies--I cannot take any credit whatsoever for baking. Eric is my baker and he is a perfectionist which is why these cookies look so yummy. The kid's decorated cookies don't look quite so tempting tho they do have a lot more frosting--and TONS more sprinkles!
Going to a big, gigantic Christmas party at friends--complete with lots of games, food and fun. They are Ducks and we are Beavers so we always hide a little OSU Beaver surprise somewhere in their house. Here Vu does a balloon stomping game:
The Christmas Elf. This tradition came years ago from my sister, Texas. This was my fav. year when even the adults got pj's. He arrives on Christmas Eve after we get home from church and he mysteriously rings the doorbell and by the time the kids answer, he is gone and there is just a large bag of matching pajamas.
One year was Sponge Bob:
Last year was Transformers because Joe loved them so much: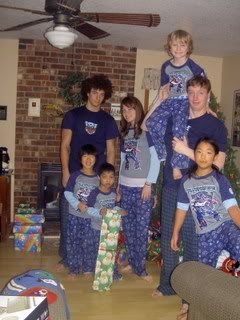 And remember this year? Super Mario!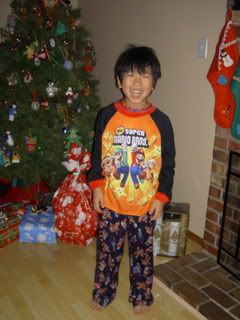 I wonder what the theme will be next year?