Remember how Paul wanted "Rock Band" for Christmas? He had been talking about it all year and was hopeful Santa would bring him what he really, really wanted. Remember his homemade version?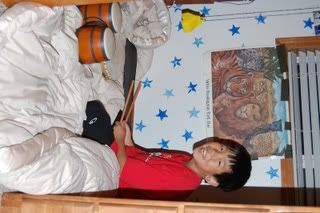 Well, a few weeks before Christmas he started to ask for something much less expensive. Seemed like the smart thing was to let Santa go the less expensive route, eh? Problem was, two days before Christmas he changed his mind. I told him Santa had already packed his sleigh and Santa thought he wanted that Nerf game--but I could see the disappointment in his face. And as we headed to church on Christmas Eve he looked at me so earnestly and said he was praying Santa knew he really wanted Rock Band. Oh my! Those eyes! That expression of hope! Would Santa come through? But it was already Christmas Eve!
I have learned to hard way that if at all possible, give the kids the one thing they ask Santa for. I don't remember many of the Santa gifts over the years but I remember the look of disappointment the year Lizzy asked for a "Real Life McDonald's Baby" and didn't get it because her mom thought it looked like a silly gift and surely she would like a different doll much better. (Lizzy still remembers too.)
So, what happened?
Bakugan sets from grandparents:
Roller skates, games and Webkinz--frogs for both Patrick and Vu. It was so cute, Vu named his "Cory" after one of his orphanage friends: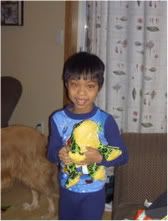 Clothes and Sock 'Em Boppers for the biggest kid: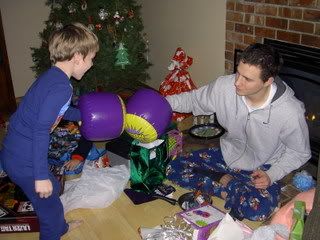 A new bike (yet to be tested with all this snow) and gadgets for Gadget Girl, like a headlamp:
i-pod and a bracelet for our girl growing up way too fast: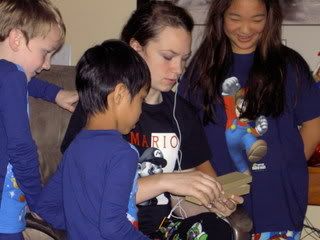 And surprises I can't disclose for James and Glamour Girl who spent Christmas out of town at her parent's. They will open their presents when they get home--here's a pic of James that Glamour girl sent from her phone. (I don't like James being away for Christmas but I guess I have to learn to share):
We also had a nice Christmas dinner with my parents coming over really slick roads--I am so thankful they made it here and back safely:
So, do you want to know what Santa brought Paul? The Nerf game he asked for. And a basketball and a new pair of gloves. Cool huh?
But you know what's really cool? Santa also continues to bring a gift for Joe, our son we lost to cancer. Santa brings a family gift that Joe would love for us to have. And Joe loved video games. And Joe would have loved for us to have Rock Band. And Mommy knows someone who was working at Game Stop (a video game store) late on Christmas Eve: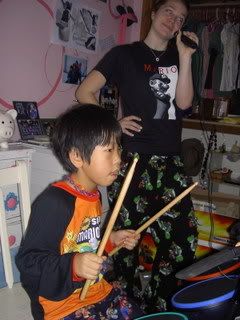 Funny comment of the night--Patrick was playing and here's what he said. "I like this girl, the one that's singing right now . . . she looks like a scientist . . . (long pause) . . . a really sexy scientist!"
Eaiii-yi-yiii-yi-yaiii!!! Where does he get this from? All I can think of is that I'm in big trouble! Big!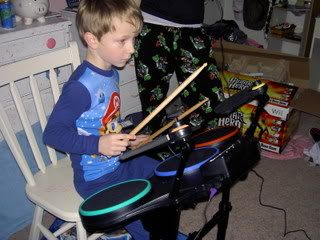 Mommy's words prove true--you have to believe to receive!