At the crack of dawn every morning I am awakened with the same question from an excited little sleepyhead who thinks if he whispers, he is not waking me up.
"Mommy? Mommy? How many more days until Christmas?"
Guess who this little sleepyhead is?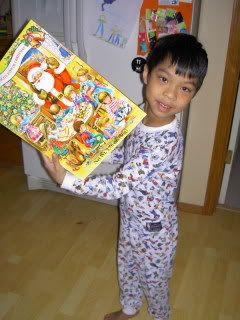 Opening his advent calendar is the first thing he does every morning. He is more excited about Christmas than all the other kids combined!
Because of this, I know it is only eight more days until Christmas and I am certain you all have your shopping done but just in case . . . .
LAST MINUTE GIFT IDEAS
Esp. good for parents/grandparents
*Digital picture frames
*Digital keychain
*Under the counter CD player for the kitchen
*Professional pictures
*Pottery mugs/dishes from a pottery store (the kids paint)
*Photo coffee mugs--Starbucks makes some where pics can simply be inserted
(Put together with a coffee/biscotti basket for a bigger gift)
*tickets to a play/sporting event
*Framed artwork by grandchild
*Photo calendar
*Movie tickets
For teens and other hard-to-buy for people
*Go with a basket around a theme. Think of what they like--favorite sports team, favorite foods, favorite things to do.
Examples:
*Slumber party basket with junkfood, glow bracelets, flashlight, card game, movie etc.
*For a family who likes skiing/sledding--basket with handwarmers, cute paper cups and plates, hot chocolate, beef jerky, almonds, cheese and crackers etc. If you want to spend more, add a nice thermos, blanket or a sled!
*For college dorm kid--hot pot, hot chocolate, cup of noodles, chips, card game such as "Battle of the Sexes" and for a guy--a big nerf gun--he'll love it! Or, you can just give them beer. College kids tend to like that too!
*Spa basket--great for pre-teen and teen girls--put in fake nails, lotions, facial masks, nail polish, lip gloss, teen magazine, lollipops.
*Movie basket with Blockbuster Card, microwave popcorn, candy, cozy fleece blanket, cool popcorn bowl.
*Cookie baking basket for big or little girls--apron, cookie cutters, rolling pin, cookie mixes, recipes or recipe book.
You get the idea! Think of a theme and just go with it! My parents have given our girls sewing baskets and our boys tackle boxes. They filled both with all kinds of great necessities and these are gifts they will have until they are adults--the best kind of gift!
Want an unusual gift? How about this?
Of course, those are only available at the airport in Korea. Funny, huh?
For a really meaningful gift, buy a pig! I just did! Or buy blankets, food, toys. Support orphans
HERE
through Holt's Gift's Of Hope. Out of curiosity, I called Holt and asked if all the money donated really does go to the specified category or just into a general fund. It really does go to the selected category so, I really DID buy a pig this morning! I think it will be the most meaningful gift I have purchased this Christmas!

Happy last minute shopping!