My (borrowed) New Years' Resolution idea has taken hold. I've struggled with which rocks should be the big ones--so many necessary big rocks and so little space in the jar.
I am not a collector but I do have a handful of meaningful rocks--picked up over the years even including a few marbles from my grandmother. They now have a new residence by my kitchen window.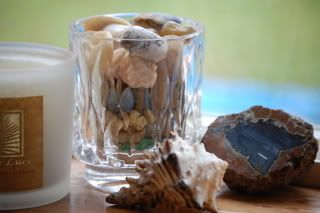 It bothered me the jar is so full--I like the idea of having room to breathe. I tried to pare down, but each rock is special and in the end I decided the full jar replicates my life.
My biggest rocks this year:
1.) Getting up early--spending time with God and mentally preparing for my day
2.) Health--for the entire family
3.) Education--if for no other reason than the amount of time, energy and money being spent on it--I want to keep the priority high
What are your "big rocks" this year?