Years before we adopted Vu our son Will (now 19) would advocate for us to adopt another child. He would actually get on Holt's website, find a waiting child he thought was a good match, and download the picture as our screensaver!
Believe me, I would have said "yes" to all of those kids but I have a husband who has a top priority of keeping his wife sane. (Or, maybe he just wants to make sure he still has money for necessities--food, water, shelter, golf.)
Anyhoo, I thought Will would be thrilled when I finally coerced Eric into adopting again. (Did I just say that out loud? Of course I didn't
mean
coerced, I meant to say when we both decided our lives wouldn't be complete without another child). Will was thrilled--until we told him we weren't adopting a baby. That was when he decided it was not a good idea for us to adopt again, not a good idea
at all
! In fact, he was very opposed!
Why? He thought it was going to be too frustrating and overwhelming to adopt a child who was older, who couldn't speak English, who couldn't communicate.
Well, suffice it to say that teaching this kid English has been a breeze. I really can't even say "teaching" because he seems to just absorb it like teenagers sponge the 20 bucks we just got at the bank!
I was driving in the car yesterday and reminded of Will's fears--I can't believe how far Vu has come in just one year. He was talking to Patrick about a book:
"Is this the main character?"
"This story is actually very complicated!"
"I think that kid is just over-reacting!"
Yea. I think the kid speaks English--which isn't to say everything is coming easily for him (he's still about three years behind in small motor skills) but it just goes to show that sometimes the things we fear most about adopting internationally can end up being the easiest.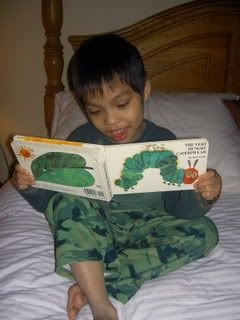 Oh, and for the record, the minute Vu stepped off that plane, Will became his biggest fan!