Today I was sitting in the living room pondering paint color. I just finished painting the entry which started off the snowball effect of me thinking I now need to repaint the entire interior.
See Mommy. See Mommy paint. See Mommy paint and paint and paint. (Perhaps she likes smelling paint fumes?)
See Lizzy. See Lizzy paint. See Lizzy paint and paint and paint. (Perhaps she's trying to earn Brownie points so Mommy will convince Daddy that all girls' college would not be a good thing.)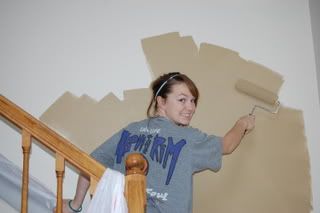 Anyhoo, as I sat there (pondering paint) Kim ran in, rushed past, then stopped dead in her tracks and retreated. She stood there just looking at me in the most quizzical manner. After a long pause she finally asked, with complete sincerity, "Mommy, are you on time-out?"
I busted out laughing realizing I was sitting in our oft used time-out chair appearing to be doing nothing--except sitting--which is rare.
It got me thinking. I wish I DID have a mother who would put me on time-outs. Ahhh, just to sit and think and sit and ponder and sit. And while I'm dreaming, I wish my mother would force me to take naps. And to go to bed early. I would be very, very naughty. I would need a lot of time-outs and a lot of naps.
The dreams of a mother of many.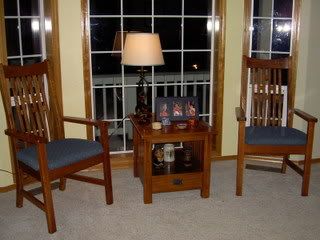 Everything comes in bulk in our house--even time-out chairs! Anyone want to come and join me for a time-out session? You bring the Starbuck's I'll provide the chairs!