We had Vu's US adoption ceremony! He was legally adopted in VN but still had his VNese name. It was a wonderful ceremony and he is now an offical part of the Crazy family. A new birth certificate will be issued in his American name with Eric and I listed as parents.
We had the courtroom to ourselves and the judge took thirty minutes to explain to our kids the history of circuit court judges, branches of government, the making of laws etc. We then had a mock trial with our kids in which "Bob" stole several chickens. (It took some time for us to explain this to Vu after the ceremony. He was confused what Bob stealing chickens had to do with changing his name.)
Paul was "Bob" and Kim was his attorney.
Lizzy was the prosecuting attorney and Vu and Patrick were witnesses. Vu even got to take the witness stand.
Then we did the actual ceremony. Vu got to bang the gavel. The judge explained to him that he would be in our family even when he was a teenager, even when he was fifty, even when he was one hundred!
Vu gave a big grin and said he would be in our family, "Forever and ever, even when we die and go to heaven!" He then looked out in the courtroom and gave his grandparents and our social worker a thumbs up and a huge grin! I was dry-eyed until that point!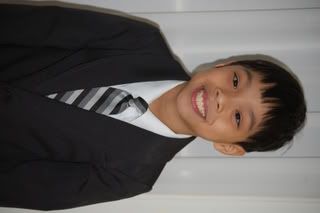 I don't know if it's "judicially" correct to post pictures of the judge, so I won't, but here's Vu after the ceremony:
As a side note, Vu loves his American name of Luke. He has two middle names--his VNese name and his baseball player name which is after Cal Ripken Jr. (a family tradition). And the best part of all, our whole family now shares the same last name!