Thanks for all the words of wisdom from you wise mothers on guilt. As I was driving to school last night I was still feeling overwhelmed and Philippians 4:13 popped into my head, "I can do everything through Him who gives me strength." I said it to myself over and over, all the way to school.
Peace came. Peace stayed.
To answer Sandwich's question, YES, I want to work for Holt! My college counselor says I need to be "realistic," "broaden my horizons," and consider other employment opportunities, but in true Joel Osteen fashion I continue to declare, "Someday, I will work for Holt!" (Hey, Grandma Holt worked there until she was nearly 100--so I've got plenty of time!)
My philosophy on international child welfare lines up perfectly. I respect their philosophy of finding "families for children" and not, "children for families." Here is a recent statement from Holt:
"Holt is much more than an adoption agency. We also develop and maintain programs overseas to give orphaned, abandoned and vulnerable children safe and nurturing environments in which to develop.
While children are waiting for permanent families, we place them with foster families where they will enjoy an attentive, family-like environment. The quality care helps children develop, and it helps them to better prepare to bond with their adoptive parents. In situations where we must use institutional care, we use a high ratio of childcare workers to children along with attentive childcare methods that ensure children receive physical and verbal affection and stimulation.
We consider each child's situation individually to find the best long-term solution for that child. Because we also investigate the possibilities of preserving the birth family or domestic adoption, you can be assured that international adoption was the best solution for your child."
Speaking of Holt, one of the cool things we did in Texas was to meet up with several other Holt families who have adopted from Vietnam! (Actually, one family is still waiting for their daughter to come home so please keep the prayers up for kids still waiting!) I have known these families through forums and e-mails but it was SO AWESOME to meet them in person! It was like going from 1D to 3D!
It was a joy to meet all the kids including Mr. Delightful: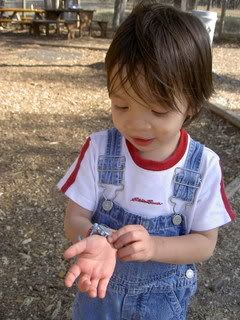 I was reminded, once again, how lucky we are to have these precious children in our lives. As I sat watching the kids interact, I couldn't help but think how lucky our kids are too. I know as adoptive parents we cringe when others say that because we know that WE are the truly lucky ones. Our kids weren't "lucky" to have the situations and losses that brought them into Holt's care (though they were blessed by birth mothers who cared enough to give them life and hope). My son wasn't "lucky" to live in an orphanage for six years. But as I watched the kids run and laugh and squeal with delight as their daddies chased them; as I watched a child fall down and come to his mommy who enveloped him in love; as I imagined the future they were dealt, and the future that was given, I had to admit--we're lucky. And so are our kids.