My sweet Lizzy is sixteen! It seems impossible.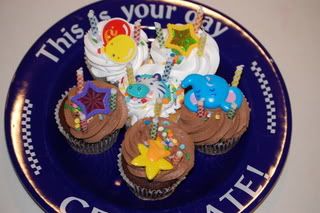 There is NO WAY it's been sixteen years since she was born--a day I remember like yesterday.
She was baby number four--and C-section number four--and we also thought she was boy number four. An ultrasound slip of the tongue had given us this privileged information, much to our chagrin (we didn't want to spoil the surprise), but we were very excited because we knew we were on our way to having our own basketball team! We had blue everything including a baseball outfit for the homecoming.
After trying VBACs with Joe and Will I reluctantly agreed to a scheduled date for Lizzy. I can sometimes be a stubborn woman but my real reason for wanting to go the "regular" route was because I didn't like leaving my other kids, not even to go have a baby, so I didn't like the longer recovery that a C-section required. I also wanted a cool birth, like a water birth. It is very hard to perform surgery underwater.
But you know what? I did end up having a very cool birth with a very cool doctor who let me walk into the surgery room, climb up on the table, suffer through an hour of trying to get the epidural in (that part wasn't cool), while listening to very cool music while the doctor sang and did some tap-dancing. After the shock of hearing that "he" was a "she" they let me keep her in the surgical suite while they stitched me up and I even got to breastfeed her right there on the table--almost unheard of in the world of c-sections. Yep, it was cool! And the best, best part is, we ended up with a very cool daughter!
Now, she is growing up. She is so sweet and loving and helpful that I can hardly stand to think that she will be leaving home in a few short years. It's probably too late but I should have convinced her that on-line college would be a great way to go--then she could live at home another four years! I think she has her sights set on something bigger and she works hard in school so she will probably be able to go anywhere she wants to. I'm going to miss her. Sniff, sniff. I guess this is supposed to be a happy post so let's get to the party part.
Okay, so, you know how I told you that with Kim's bday I finally figured out the perfect way to have a slumber party? Okay, well, I learned something with Lizzy's too--do not, I repeat, DO NOT allow your child to schedule their driving test on their birthday.
We woke up to SNOW on Lizzy's bday and she had only driven twice in snow:
And then she failed her driver's test which absolutely devastated her and ruined her special day!
But, then she practiced up:
and passed with flying colors a couple weeks later: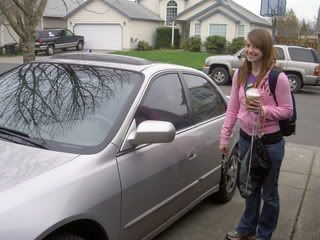 In our state, kids can only drive relatives for the first six months. When my sister was here Lizzy took my niece, nephew, Vu and Patrick to the playground. When she got home the thought occurred to her that a policeman would never believe all the kids were related!!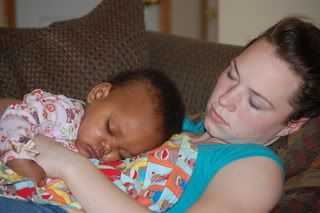 She had a cold but fun party at the coast with lots of friends:
We were going to order a 6 foot Subway but they were $75! Can you believe it??? So, we made our own for CHEAP!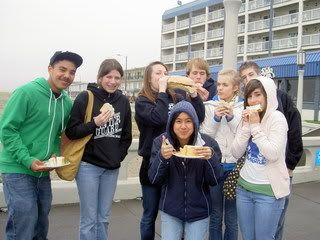 Came home for a big spaghetti dinner: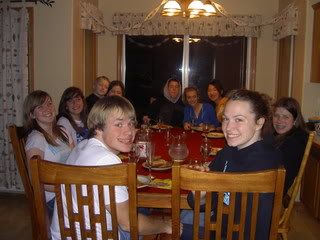 Presents:
Guitar Hero, Laser Tag and a sleepover (only the girls of course!):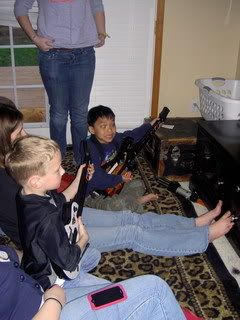 And the next weekend we went to see the play WICKED with my mom--it was COOL!:
Lizzy, I love you so much! You are a wonderful daughter and friend. May your life be filled with joy: