The beach. The coast. The ocean. All the words mean the same thing--my favorite place to be! Guess where I was on Mother's Day? Even better, I was with my mother whom I love even more than the beach! She's my inspiration, cheerleader, advisor, and friend. She's a feminist (in a good way), a pioneer, patient, intelligent, and loving. She loves me unconditionally and would go to the ends of the earth for me if I needed her to--or even if I didn't. I don't know how God decides who gets which mom but I am honored and blessed to have mine.
I LOVE YOU MOM!!!
The best part was just relaxing at the beach and hanging out.
It was a wee bit cold--but as you can see it's not stopping Vu from getting wet: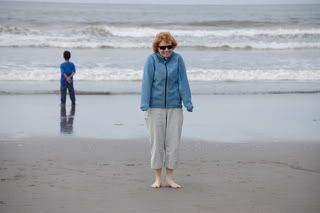 The kids even thought it was warm enough for swimming suits!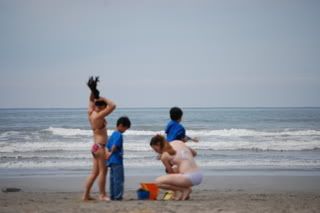 See Vu? Still standing in the surf, just looking out at the ocean:
Writing a message to Joe. We miss him, especially on special days:
Stealing a hug--check out the new braces.
Did I ever mention how much our orthodontist loves us? If you look far enough out in the ocean you will see the yacht we bought for him. You would think we could at least
adopt
kids who don't need braces!
Still there . . .
Patrick is always full of love for his Papa: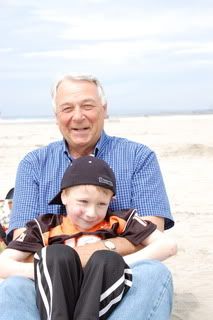 Thirty minutes later, guess where Vu is . . .
Finally, he came in because his feet were ice cubes. He was also wet. I forgot his shorts so was just going to strip him to his undies when he informed me he had none. The kid is still holding onto his VNese roots folks! He does NOT like undies!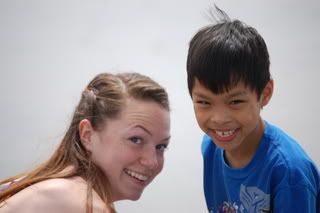 James and Will had to work but I still was able to see them, hug them, and receive special gifts.
It's so rewarding as a mom when kids grow up and pick out something really special--something from the heart that they know their mom will love! I am not a "present" person--there isn't much I feel I need--but my boys hit it with flowers and books and the best part, heartfelt cards! My younger kids put together a spa basket complete with a Starbuck's card and a book. They know their Mama!
Did I ever happen to mention how great it is to have eight children? Especially on Mother's Day? From the time I was a baby myself I always wanted to have a bunch of them. I am truly thankful to God.