Such good advice in your comments my dear sisters and friend. Thank you. I have truly been trying to just live in the moment and witness all the little miracles in every little thing. Something that also helps my spirits is that when I have negative thoughts, I just start mentally listing off all the things I am thankful for. It helps.
We took the kids over to see the inside of the house today. It really was very fun and exciting to imagine actually living there, entertaining friends, having room for church group and sleepovers and company! My parents won't have to stay in a hotel when they come to visit! Horray! (Then again, they might want to--perhaps the fact we were a bit crammed here has really just been an excuse for them to find some peace and quiet!)
And finally, some pics! I don't have any of the new house to share but FINALLY, pics of DC :-) We had SUCH a GREAT time! Thanks Nicole! You are such a great hostess! (And the pics don't do justice--I forgot to bring my charger so only have a few.)
My boys were SO happy to see their cousin!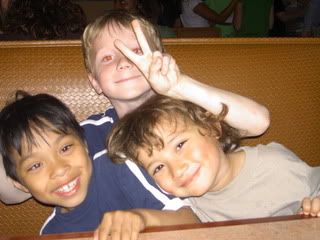 My nephew getting his first trophy: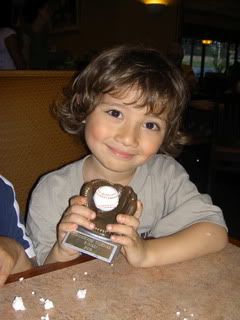 Worlds' cutest baby: