We are now in the appraisal, banking, inspection part of buying and selling. There is the domino effect for four families. Why didn't anyone ever tell me that selling and buying a home is stressful? I think I learned this once--fifteen years ago when we built this house but we were only buying, not selling, so perhaps it wasn't so stressful? Or, perhaps I am just old with an old brain that filters out old, stressful memories.
I am also old enough to know of plenty of horror stories of buying/selling gone wrong at the last minute so until I am really certain we are moving I refuse to start packing. Should be fun packing with limited days, huh? Ahhh . . . procrastination at its finest!
Since I'm not sure I actually have a new house, I can at least share pictures of my new, old house--the one I now live in. In our mad dash to get it ready to sell, we spent four days nearly 24/7 working, not eating, not feeding our kids, not caring if they watched too much TV and played too many video games. The end result was worth it!
The handy husband (along with designer Will) came through with new sink and granite tile counter tops--the old ones were scratched up white laminate--so BIG change!
And, just a couple of weeks ago we painted Kim's room from pink to bright, robins egg blue--the pics don't give the brightness justice:
Our agent said the blue must go so now it is a pretty pale yellow: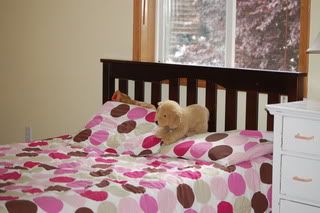 We now have a dining room for the first time ever! Years ago we walled it in the official "dining room" with French doors so it has been a den/piano room, a bedroom (for various kids), and most recently, a TV room. I love seeing it as an actual dining room:
And since we moved our kitchen table into the dining room, we now have a cute little kitchen table and bar stools borrowed from our oldest son, James--those older kids keep coming in mighty handy!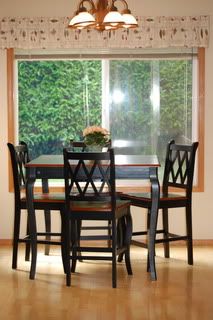 We planted flowers:
And put down new cedar chips for the playset and barkdust in the flower beds compliments of Will--yes, again I say it, those older kids come in super handy!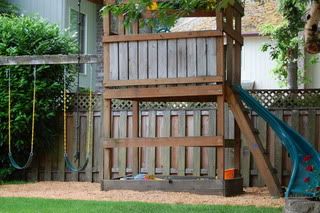 The only bad part is that we will never again have excuses for not doing a project--we now know how much we can accomplish when panicked.
The best part was actually the organizing, cleaning, purging, and decluttering that went with it. We took our agent's suggestion of taking out some furniture, taking down some wall pictures, and minimizing trinkets/dresser decorations/kitchen counter-surface things etc. Not only do we love the final look but our kids love it too and want to keep it this way! It feels so much cleaner and fresher! We also took lots of stuff to a storage unit and I can hardly remember what--which means we do not need it and it's not coming back--not even to the new, new house, assuming all the dominos really do fall into place and it all comes to be.
Regardless, I've learned some great lessons and should the dominos not fall, I love my new, old house too. And ultimately:
"We don't need walls or rooms or gardens or furniture or flowers or familiar scenes and neighborhoods in order to be home. Wherever those we love are, there home is."
From Jaroldeen Edwards in one of my favorite books--
Things I Wish I'd Known Sooner.