Guess what I've been doing?
You only get three guesses.
This?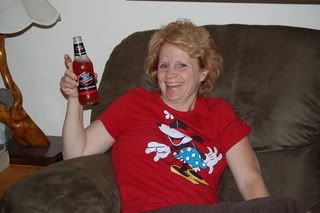 Or this?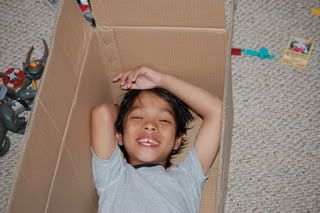 Yup! The second.
We did go to the cabin over the fourth which was a much needed break (as seen in the first pic). It's always fun just to sit back and watch the kids have fun and since James, my mom and dad and a couple of the cousins were there it was even more fun!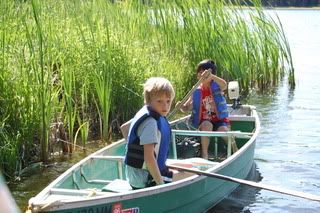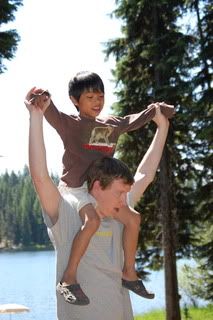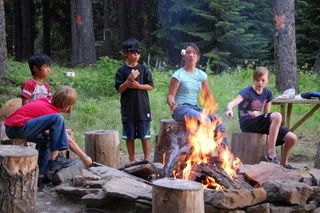 Several people have asked how Vu is doing with the move. One of the MANY reasons we had decided NOT to move (before we saw THE house) was because of Vu. We wanted to give him the stability of living here for as long as possible. And then, you all know what happened when we had the world's best "so you're telling me there's a chance" realtor give a call :-)
Here's a pic at the signing with our friend and realtor LP. We feel blessed to know her and highly recommend her.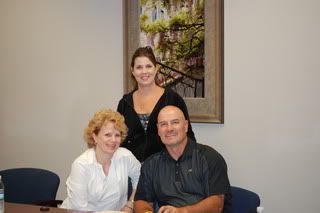 Anyhoo, I admit I was very worried about moving Vu. He has gained so much confidence but I still see bits of fear come up and he will ask me questions like whether he can still be adopted by a new, different family. We go over the whole process again and again and how the judge in VN made him our son and the judge in the US verified that and gave him the same last name we have. We assure him he will always, always be in our family even when he gets bigger and moves out (tho I also assure him that if he wants to live in the basement his whole life that is okay too! :-)
I've seen tremendous growth in all areas, especially confidence. Last weekend he even caught his first fish! At the beginning of the weekend he was still learning how to cast and by the end he was a veritable commercial fisherman! SO PROUD WAS HE!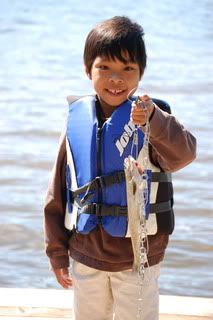 He even helped clean it with professional instruction:
Well, so far, so good. We move in 2 days but I have yet to pack his bedroom. I will wait until the last minute and he will help me. He knows everything comes with us and we have even talked about the few things that will stay--ceiling fans, playset, strawberry garden :-(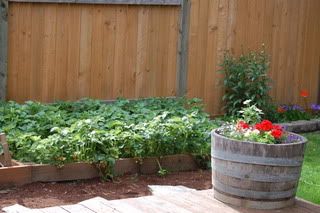 I still worry about setbacks. Time will tell.
Then again, in some ways, I hope moving will concrete the idea that he will always be part of our family and that nothing, not even moving into a new house, will ever change that!