Hey guys it's Lizzy. :]
Today is my parents 28th wedding anniversary! And they're spending the day getting ready for our house warming tomorrow. Not ideal-- so as a tiny surprise I wanted everyone to wish them a happy anniversary!
My parents are the best. I couldn't ask for better ones. :]
So here's to you guys! Happy 28 years!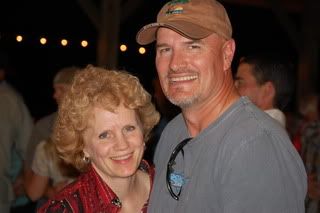 EDIT by Ann--Awww! Such a sweet surprise! We were so busy getting ready for our housewarming party (FUN!) I hadn't even checked my e-mail! We had a nice anniversary and even snuck dinner in. 28 YEARS! That's a LONG time. I like to say, "We haven't killed each other . . . YET!" LOL! Sometimes I wonder how we ended up together. Let's just say E-Harmony wouldn't have paired us up! Can you spell OPPOSITES ATTRACT?
We are very different but we're also great friends. I've discovered the key to a happy marriage is to try to change oneself instead of changing the other person. Eventually,there gets to be a middle ground where best friends are found.
I always think of my husband when I hear this song. My guy is definitely still a guy and always will be!
Here's to another 28! Thank you Lizzy and friends for your sweet surprise!