she has to drive a 15-passenger van . . . just for herself!
I know, that isn't funny. Except that it is. Especially because I do drive a 15-passenger van.
I am told our new neighborhood used to be very quiet and boring. No longer. Our family now provides noise, entertainment, and an occasional freak show--all for free! Here's what we woke up to one morning . . .
Tagging.
For those of you without teens, "tagging" is what teenagers do to each other in the middle of the night to show affection. At least, that is what I am told. In truth, I think it's what teenagers do in the middle of the night when they are bored. All I can say is that it beats being TP'd.
Lizzy's car looked like this: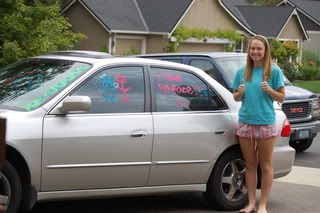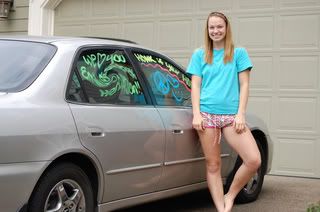 My "sexy beast" looked like this: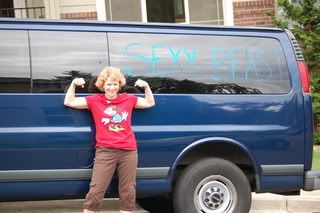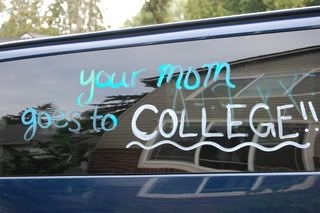 I didn't understand the "your mom goes to college" until Lizzy reminded me of this clip from Napoleon Dynamite:
Funny thing is, we've been busy making friendship bracelets here. I would be happy to make one into a keychain if anyone would like to donate to my college fund :-)
I actually just finished up for the summer so I am a free woman for the next couple weeks, which hopefully will mean more time for blogging! Lots to catch up on!