I am always amazed how different each child is. And yet, they also have many personality traits in common. All of my kids have a great sense of humor. That's a good thing because, in our family, it would definitely be detrimental not to.
For Paul's birthday, he said he wanted a "Rip Stick" which is a new type of skateboard with a twisty joint in the middle. Several of his friends had them and being the sports enthusiast that he is, he couldn't wait to claim ownership of one himself.
When his dad asked him what he wanted for his birthday, he got the "Rip Stick" answer, to which Eric assured him that he could MAKE him one.
Paul's smile suddenly turned to a frown. Make one? Uh, no dad. That's just not possible.
Over the course of a couple weeks the topic came up again and again wherein Paul would be talking about the cool board and Eric would assure him he could just make one--for a lot cheaper, ya know?? He even tried to convince Paul the other kids would be JEALOUS because his would be so cool and he could call his a DIP STICK!
Let me tell you, Paul didn't seem too impressed with the idea of a Dip Stick.
So, the day of his birthday comes and there is no package shaped like The Stick but Eric is out in the garage hammering and banging and making all sorts of noise.
I took Paul aside and told him that his dad was out there making him something and that
even if it didn't turn out quite how he imagined to just pretend he was really happy so he wouldn't hurt his dad's feelings.
Paul laughed, thinking it was a joke. I kept a straight face. Then, Paul got really sober thinking maybe it wasn't a joke. He vacillated between the what-ifs, all the while hearing the hammering and banging out in the garage. He definitely looked worried--between hopeful laughs!
Finally, Eric had his proud moment of coming in with the dad manufactured "DIP STICK"!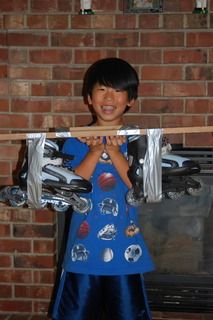 It is a board duct taped to two roller blades! It even has a broom stick handle taped onto the board so it looks more like the twisty thing on a real Rip Stick.
We were laughing so hysterically Paul was pretty sure it was all a joke.
Still, he was one happy guy when we pulled out a real Rip Stick!
He had a great time with friends at the Bowling Alley:
Here's a cute pic of Kim teaching Vu to bowl:

Happy Birthday Paul! Never stop laughing! WE LOVE YOU!